The Creating a Vested Agreement course provides step-by-step instructions to help you create a Vested agreement. Taught by the Vested faculty at the University of Tennessee College of Business Administration and authors of the Vested books, the Creating a Vested Agreement course is based on 10 years of award-winning research, real-world implementation, and actual results from large and small companies that have gone Vested.
The course provides a proven roadmap on how to create a Vested Agreement, along with impressively detailed instructions so you'll never feel lost.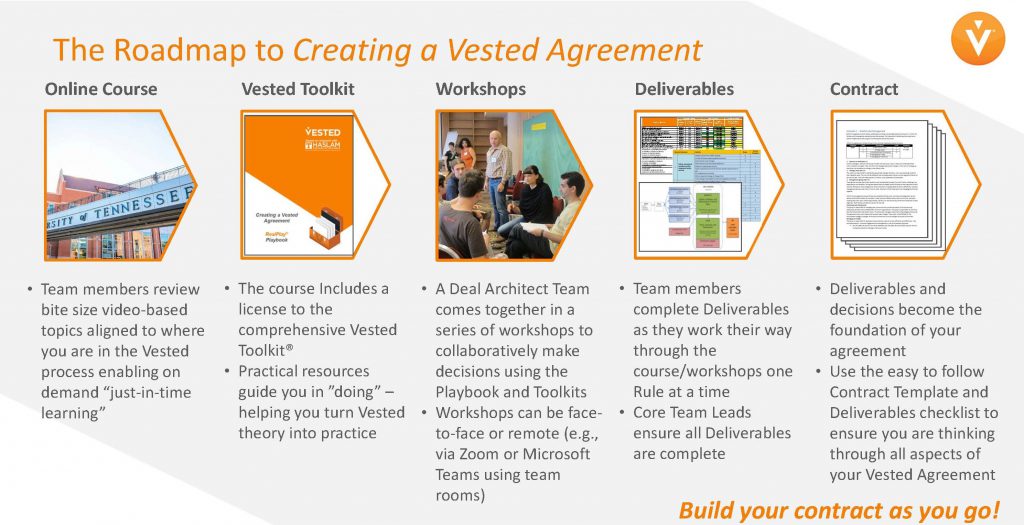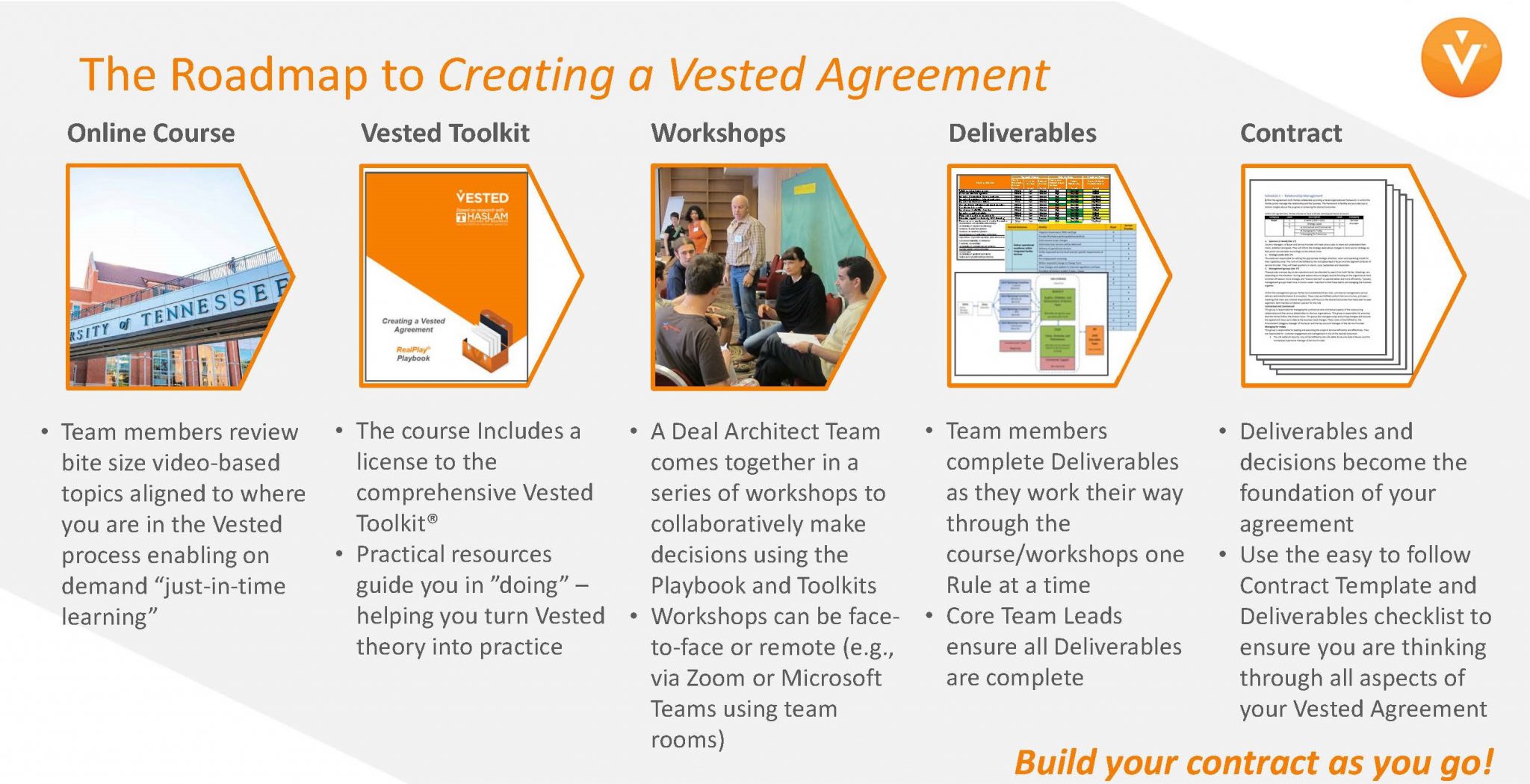 The course consists of seven self-paced, interactive video-based Modules, including one Module dedicated to each of the Five Rules. Each Module comprises several short (20 minutes or less) "Topics" where you will learn how to put the Vested theory into practice.


As you work through the course, you will find:
Lecture Topics – 20-minute bite-size video lectures that provide the essential information needed to create your Vested Agreement
Case Studies – dozens of real world examples of how organizations have applied Vested in practice
RealPlay® Toolkit – worksheets and templates to help you create deliverables that will become the foundation for your collaborative relationship. The Toolkit includes the Vested contract template
Whether you're developing a contract for a new relationship or restructuring an existing agreement, this course is a must-have resource that takes you step-by-step through creating your own Vested Agreement.
UT's award-winning Vested methodology offers many significant benefits:
Proven. More than 50 companies have used the Vested methodology successfully – with one company having five Vested deals.
Real world. Learn from real examples of how organizations have applied each of the Vested Rules/10 Contractual Elements in practice. Learn tips, tricks and pitfalls from others.
On demand. Your Vested journey can be paced to your specific timeline. Start anytime you are ready!
Step-by-Step. The RealPlay® Playbook and Toolkits is designed to help you translate Vested theory into practice. Your cross-functional Deal Architect team attends alignment workshops to make key decisions that become inputs to the contract; this ensures alignment between all functions involved.
Flexible. The project plan for the course can be easily adjusted based on your business needs. The course project plan can be adjusted for large or small deals as well as centralized, decentralized or even virtual teams.
Virtual Team Ready. The flexible on-demand nature of the methodology can be adapted for virtual teams. Yes, that is right. The RealPlay Playbook and Toolkits can easily be leveraged in a virtual team environment.
Comprehensive. You will have access to the entire Vested Toolkit—over 100 tools/templates/and resources that will help you create a successful Vested Agreement. The Toolkit Includes the Vested contract template.
Practical and Applied. When you finish the course, you should have a completed contract. Learn what decision you need to make for each of the Five Rules/Contractual Elements and use the Vested RealPlay Toolkits to turn those decision into deliverables that will become essential parts of your contract.
More alignment, less negotiation. Business partners take the course together giving deal teams a common vernacular and method to architect their agreement. The joint RealPlay exercises significantly reduce the need to negotiate because the joint deal team aligns interest using co-creating methods.
Free expert advice. The course comes with eight hours of free coaching support from a Vested Center of Excellence to help you get started.
Hear What Intel Says
Companies such as Microsoft, Intel, and P&G are embracing award-winning concepts of Vested.
Access a Free Module Now
Enrollment
Whether you're developing a contract for a new relationship or restructuring an existing agreement, this course is a must-have resource that takes you step-by-step through creating your own Vested Agreement.
Tuition: $3,500.00
Bonus: The Vested Five Rules Course is included with registration for Creating a Vested Agreement (a value of $475.00).
Register:
*Group rates are available. Please contact Mike Watts ([email protected])
FAQ
"THIS COURSE IS SOMEWHAT PRICEY. HOW CAN I BE SURE IT IS RIGHT FOR ME?"
This course is the "next step" for individuals who have taken the Five Rules online course or the 3-Day Vested Executive Education course. The Five Rules course is available free when you register for the Creating a Vested Agreement course. If you have paid for the Five Rules course, we will credit the cost of the Five Rules online course ($475).If you're still not sure if Creating a Vested Agreement is right for you, Click here to email a Vested faculty member for a complimentary Q&A session.
"HOW DOES THE CREATING A VESTED AGREEMENT COURSE WORK?"
Register by clicking on the "Take this course" button to get started. You will receive an email with instant access and instructions for using the course. The course contains seven modules, including one Module devoted to helping you apply each of the Vested Five Rules to your business relationship. Typically, members of the "Deal Architect Team" will take each online course module to learn the key concepts through the online lecture Topics. They will then download the Vested Toolkit® associated with that Topic and meet as a team to make the key decisions needed and complete the deliverables. The Toolkit provides tools, templates, and resources that will walk you step-by-step through how to complete the deliverables.
"IS THIS COURSE LIVE?"
This is NOT a live, in-person course. You can complete this course anytime you are ready at your own pace as long as you have an Internet connection. Your access to this course does not expire. Simply use your login to access the course anytime, anywhere in the world. This course can be delivered as a live/in-person option by a UT Faculty member or a Center of Excellence. Please contact Mike at: [email protected]
"HOW MUCH TIME DOES
IT TAKE TO DO THIS COURSE?"
This course consists of seven self-paced online topics each less than 20
minutes. The online portion of the
course will take approximately two hours to complete. However, you will need
additional time to complete a Business Model Mapping exercise with key
stakeholders (typically a half-day or less exercise).
"I STARTED THE COURSE, BUT WE ARE NOT READY TO COMPLETE A VESTED AGREEMENT. CAN I TAKE IT AGAIN?"
Yes. While the purpose of this course is to help you create a Vested Agreement for your relationship, we realize some people dig in and are not ready. As such, this course can be taken for general learning in order to help learn the art and science of crafting a Vested Agreement. Individuals who take the course for general knowledge can come back and access it when the timing is right and they are ready to begin creating their Vested agreement – at no additional cost for the same agreement.
"CAN I HIRE A CONSULTANT TO HELP ME?"
Hire Kate Vitasek or one of our faculty members to kickstart your Vested journey with a customized on-site workshop to help you gain broader knowledge and buy-in for your organization. We can also connect you with one of a regional Vested Centers of Excellence to coach you through the process step-by-step. Again, please contact Mike Watts at: [email protected]
"CAN I PICK THE CENTER OF EXCELLENCE I WANT TO WORK WITH?"
Yes. Typically a Center of Excellence is assigned based on region, language and type of agreement you are working on. However, you can request a Center of Excellence by contacting [email protected]