Welcome to Vested's Online Courses and Distance Learning Courses
We realize business happens in real time. When you need to develop a contract, it is not always possible to time your learning needs with the dates of our onsite courses. That is why the University of Tennessee's Vested faculty was the first at UT to embrace online courses.
It doesn't matter where you are in your adoption of Vested. From those just discovering the Vested methodology and business model to those looking to master it, the University of Tennessee has created online and distance learning courses for you.
---
AWARENESS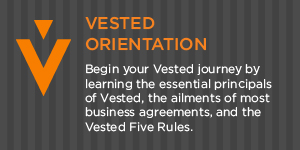 Begin your Vested journey with this free course where you will be introduced to the University of Tennessee's award-winning Vested methodology and business model.
Test your knowledge and complete a free self-assessment to determine if you are suffering from common "Ailments" from poorly structured business agreements and see how companies are using the Vested methodology to rethink their relationships.
---
UNDERSTANDING
Looking for a deeper dive into how the Vested "Five Rules" work in practice? This course profiles case studies showing how leading companies are putting the Vested Five Rules into practice to create successful and even award-winning business partnerships. The course also integrates UT's pioneering RealPlay® techniques introducing self-assessments and tools to help you validate if Vested is a good fit for your potential relationships
---
IMPLEMENTATION
The must-have resource for learning critical knowledge to create a Vested agreement. This on-demand course is designed for you to customize an implementation timeframe where you will integrate your learning (and doing!) of Vested to align with your real-world business needs to create real business agreements with a real partner. The course comes with a roadmap and practical tools for you to create a Vested agreement.
---
NOT YET READY FOR VESTED?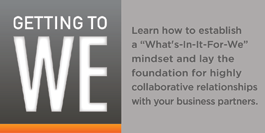 The Getting to We online course is perfect for those that want to lay the foundation for a Vested relationship but are not ready to enter into a long-term Vested agreement. The course provides a simple-to-follow 5-step process and tools to help you make the shift from adversarial and arms-length negotiations to a more productive "what's in it for we" approach.