Nothing can erode a good relationship quicker than a lack of trust. In today's dynamic environment, players change, and business issues can strain even the best relationship. Trading partner (e.g., buyer and supplier) trust is more essential today than ever- especially for the most strategic business relationships.
The University of Tennessee has been leading pioneering research on trading partner compatibility and trust for over a decade. The research led to the Compatibility and Trust (CaT) assessment® that measures trust levels between trading partners and provides vital insights to help partners know what to focus on to improve trust.
What is the Compatibility and Trust (CaT) Assessment
The CaT assessment – developed by Dr. Karl Manrodt and Dr. Jerry Ledlow – measures five key relational components that contribute to a healthy and trusting relationship.
Focus is the ability to combine individual roles into a corporate direction to benefit all stakeholders. There is a common purpose and direction and clarity around that direction.
Communication is the efficient and effective transfer of meaning through words and actions to achieve and grow mutually beneficial outcomes. It includes open and timely sharing of relevant information to a partner's decision-making ability.
Team Orientation is the ability to focus and direct individual goals and objectives into a cohesive group strategy. Team orientation is a crucial indicator of how well trading partners work together.
Innovation is an organization's ability to deal dynamically with change, risk tolerance, and try new ideas and solutions. Strong and trusting relationships allow the parties to share risks and rewards, invest in each other's capabilities, and collaborate to achieve common goals.
Performance Trust is the consistency of performing to promise and meeting commitments. Without performance, trust cannot exist.
Who Should Do a CaT Assessment?
Existing Relationships: A CaT is ideal for existing relationships to highlight focus areas the partners need to work on to improve trust – targeting specific behaviors known to erode trust. Take, for example, Canada's Vancouver Island Health Authority and the South Island Hospitals. Difficult contract negotiations had eroded trust. The CaT assessment underscored just how broken the relationship was, with team members describing the relationship as "toxic," "opaque," and "distrustful." The parties used the results from the CaT assessment as a catalyst for change and now use the CaT to monitor their relationship health on an ongoing basis. Two years later, team members described the relationship as collaborative, respectful, trusting, supportive, and even happy.
New Relationships: The CaT can also be used to lay the foundation for new relationships, providing an excellent way to create cognitive awareness of building compatibility and trust levels in new partnerships. Trading partners often use the CaT to establish baseline trust levels which team members are expected to increase as they work together.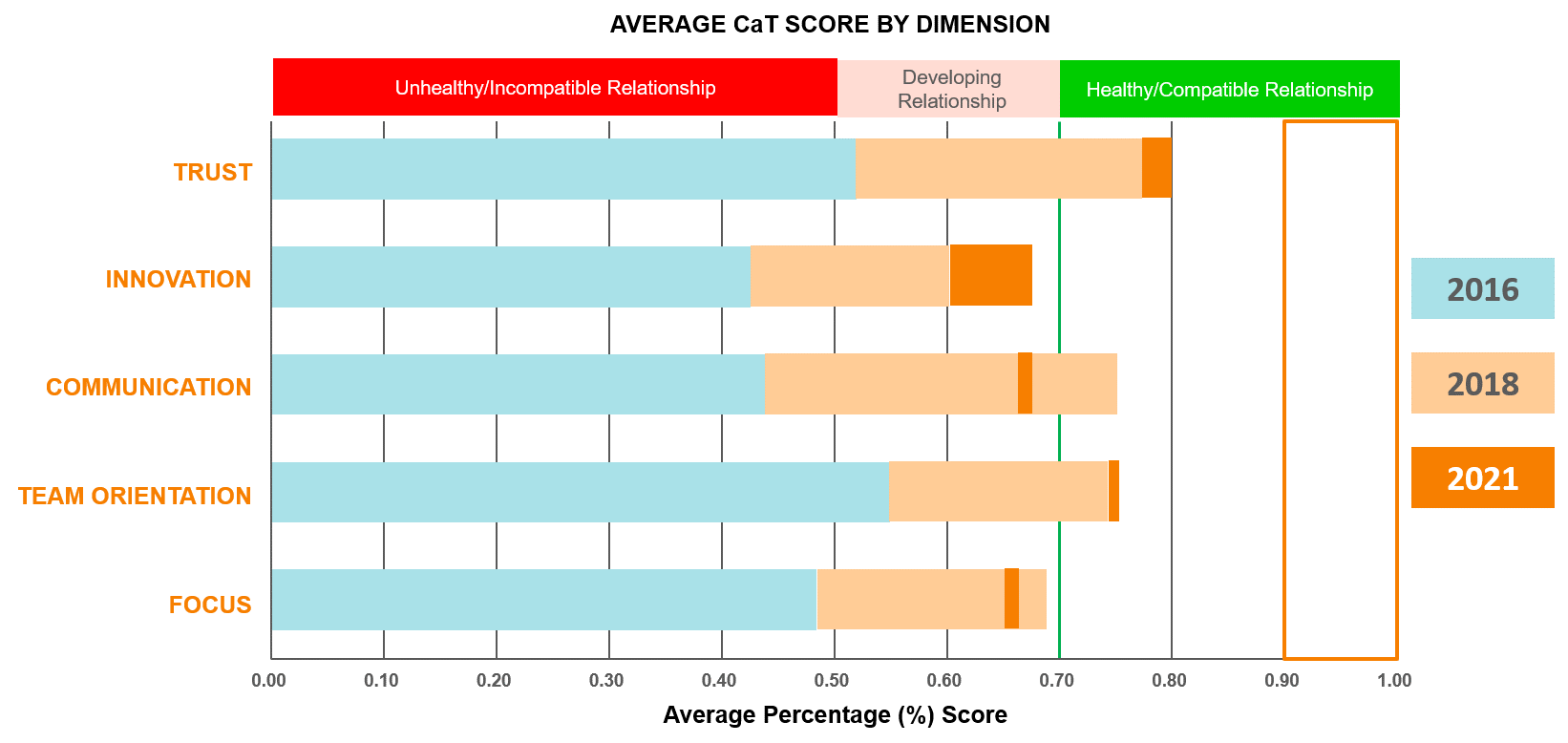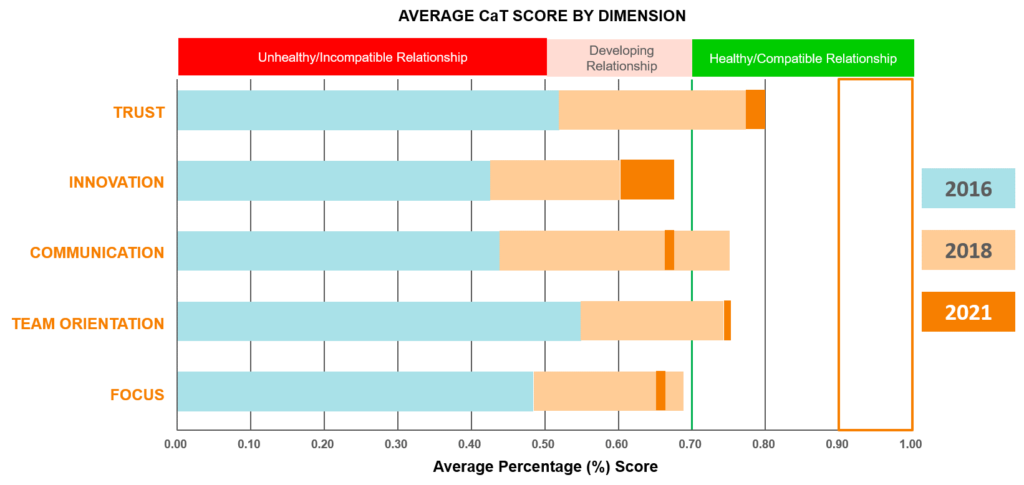 When Selecting a New Partner: In the book Vested: How P&G, McDonald's, and Microsoft are Redefining Winning in Business Relationships, P&G attributes cultural fit with suppliers as a critical success factor. Cultural fit in a trading partner relationship can be summed up as having similar perspectives on how organizations work, communicate, and make decisions. The CaT assessment allows business partners to gauge their cultural fit across the five success dimensions.
Getting Started:
Many organizations find great value in using the CaT to measure the baseline compatibility and trust in their relationship and to monitor their relationship annually. The low $2,500 cost of the CaT makes it an exceptional resource to add to your annual strategic planning event with your business part.
Most organizations opt to have a regional Vested Center of Excellence deliver their CaT results as part of a highly interactive face-to-face facilitated workshop with a RealPlay® exercise to close gaps for an additional cost.
Ready to plan your CaT with your trading partner? Contact us below to get your CaT started. (We are also happy to answer any questions our FAQ may not address.)
For More Information
Fill out the form below to get started or if you have additional questions.
"*" indicates required fields