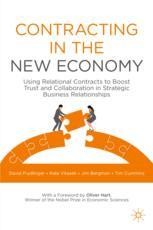 Seth Godin's recent blog, "Rigor vs Rigid" draws a distinction between two words that share the same Latin root. They began as Latin terms for stiff and unyielding, but Godin says they "sound the same but work in opposite directions."
In short, they've diverged: A rigid approach in life and work is easy to describe, "but it's brittle. Being rigid takes little imagination and a fair amount of fear." But acting with rigor means that we're able to adapt and change in the face of reality.
These concepts resonate deeply with me in large part because they relate to our latest book, Contracting in the New Economy: Harnessing the Potential of Sourcing Business Models in Modern Procurement.
What I hear from all of the Vested deals and relational contracts we've done is that the rigor put into architecting them paid off last year with Covid-19 because it gave deal teams a solid, adaptable system to adjust to new, rapidly changing realities.
That's the essence of the Vested way.