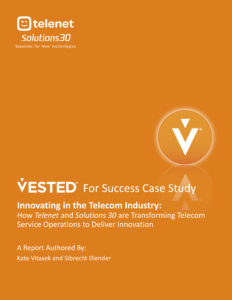 In 2016 the Belgium Telco provider Telenet began what it thought would be a six-month strategic review of the changing landscape of commoditization and digitization in the industry and how that impacted Telenet operations. The review also assessed the company's core competencies to determine areas to consider for more strategic outsourcing.
Telenet realized the benefits of tapping into the experience of service providers in the marketplace. What began with a simple Request for Information from 14 potential suppliers, culminated with Telenet selecting one strategic partner – Solutions 30 – to provide a new way of contracting for customer-related and network maintenance services.
After a 4-Day workshop led by the University of Tennessee and the Dutch Association for Purchasing Management (NEVI) Telenet and Solutions 30 decided to forge their strategic partnership using UT's Vested business model for highly collaborative win-win deals where they co-created the rules for their strategic partnership to transform Telenet's network operations.
While neither party initially set out on a Vested journey, they realized that creating a Vested agreement was the best approach for driving innovation and continual alignment. The Vested methodology flipped Telenet's transactional business model on its head and led to a highly collaborative and productive alliance.
The Vested Outsourcing contract between Telenet and Solutions 30 started in July 2018 and is now in its fourth year. Equally impressive is that the parties were able to sustain the positive momentum of their relationship and accelerated innovation, resulting in 85 Transformation Initiatives to date. The flexibility of their agreement has also been an asset, enabling them quickly navigate changing business conditions from Covid-19.   The Vested case study, "Innovating in the Telecom Industry," is now available for free download on the UT/Vested Way website.