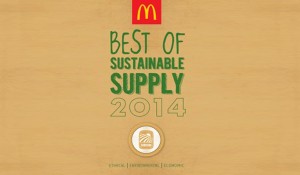 By now I'm sure you know how much I appreciate McDonald's collaborative "System First" business model—I devoted an entire chapter to its "three-legged" relationship approach to employees, franchise owner/operators and suppliers in Vested: How P&G, McDonalds and Microsoft are Redefining Winning in Business Relationships.
The company's deeply-engrained culture for long-term, win-win relationships with suppliers dates back to its inception, when founder Ray Kroc established a precedent of trust and loyalty.
That philosophy continues into the present. Last month McDonald's issued its latest "Best of Sustainable Supply 2014," in which it honored 36 suppliers and 51 projects that "represent real innovation toward a more sustainable supply chain." McDonald's received 585 submission, nearly 40 percent more than for the last "Best of" report.
The report describes how suppliers have achieved significant results by identifying opportunities and applying sustainable solutions in diverse places around the world. McDonald's leaders and industry experts recognized sustainable accomplishments across eight platforms: Climate Change and Energy; Water; Waste; Land and Biodiversity; Human Health and Welfare; Animal Health and Welfare; Community Impact and Economics.
"Innovation is key to our CSR and sustainability journey, and McDonald's suppliers have an impressive track record of innovating for what we call sustainability's three Es: ethics, environment, and economics," said Jose Armario, executive vice president, McDonald's Global Supply Chain, Development & Franchising. The "Best of Sustainable Supply" helps McDonald's to identify the "very best practices and innovations happening every day in our supply chain, and to share that knowledge with other suppliers," he continued.
McDonald's "2014 Best of Sustainable Supply" report highlights include:
Community Impact
The Campbell Soup Company led a "Just Peachy" project that re-purposed fruit to raise non-profit funds and combat hunger.
Water
Through innovation and collaboration, the Lamb Weston/Meijer team created Innowater (renewed water), a technology to purify water to reuse in manufacturing processes.
Waste
ConAgra Foods established the "Zero Waste Champion" Recognition Program. The award is earned by facilities that have diverted at least 95% of solid waste from landfills during the fiscal year and continuously strive to further reduce waste through process modifications and diversion of materials for the most beneficial reuse.
Climate Change and Energy
The Coca-Cola Company routed orange juice from a processing facility to a bottling plant via an underground, 1.2 mile pipeline. It has eliminated the need for an average of 70 tanker trucks per day and provides cost savings and reduces the company's carbon emissions by approximately 20 million tons per year.
"It is critical to recognize progress in sustainability to encourage more of it," said Christine Bader, human rights advisor to BSR (Business for Social Responsibility). "By highlighting good practices among its supply chain partners, McDonald's is rewarding the sort of innovation that we all want to see."
"Selecting a small list of winners from such a robust group of entrants was challenging," said John Davies, vice president, GreenBiz. "Every entry was valid, with all programs demonstrating impressive ingenuity and results. It boiled down to identifying entries that were innovative and impactful, and programs that could not only enhance sustainability in the broader industry, but ideas that were sustainable themselves." Davies and Bader were two of 14 judges on the selection committee: they represented 13 different companies and organizations.
I recommend this report highly because it shows how innovation is unleased throughout the McDonald's "System." As the company says, it's about "Our Journey Together. For Good."