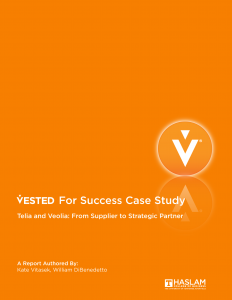 We've published the latest example of Vested in practice, a case study describing how Telia – a Swedish telecom company – applied the Request for Partner process to get to a Vested agreement with Veolia, one of its long-time suppliers.
Simply put, Vested helped them go from a supplier-buyer relationship to a true strategic partnership.
Telia had to decide which of its 20 suppliers would be the best fit to make the shift to a Vested model. The University of Tennessee's Request for Partner process was the solution. The RFPartner process is a highly collaborative competitive bidding process. It is used when a buyer is seeking not just a strategic solution from a supplier but also the ability to assess multiple providers' cultures, mindsets, and willingness to engage in a collaborative relational contract. A key purpose is to select a "best-fit" supplier in order to create a highly collaborative environment where cultural fit and a win-win mindset are essential to managing an outcome-based buyer-supplier partnership.
The case study shows how the RFPartner process worked.
Download the case study here or from the University of Tennessee's dedicated Vested website.
And if you are an educator, you can request the full teaching case study by contacting me at [email protected].